There is a new ride in Magic Kingdom: SEVEN DWARFS MINE TRAIN – Opening May 28 to the general public.
I will try to contain my excitement! You can find this new family roller-coaster in Fantasyland. It is inspired by the movie, "Snow White and the Seven Dwarfs." The majority of the ride is elevated in comparison to other rides within the park – you will get amazing views!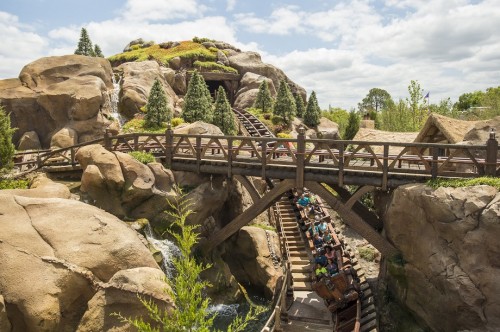 Disney spared no detail when designing this ride – colorful gemstones, meticulously detailed homes, embedded dirt paths, and more. It gives Disney goers the feeling that they are in another world. Disney is amazing at giving this to us.
While waiting in line, you will have the chance to pass by three interactions stations. The first one is 15 feet long and involves a jewel washing game where players try to drag jewels from the trough. The second interactive station encompasses a water fountain that plays music when hands are placed in the water. A barrel of gems is the focus for the last station. You can spin the barrel to see animations on the ceiling. These three areas help to pass the time while waiting in line. These additions are part of the Next-Gen Technology phase that Disney has been in the process of implementing.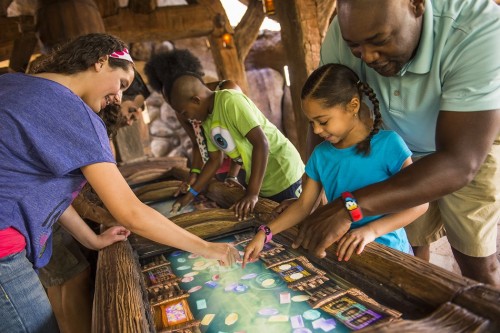 You can see in the next picture that the mine cars were made to resemble the ones depicted in the movie. In "Snow White and the Seven Dwarfs," these cars can be tipped. This feature was mimicked by having five car trains individually swing back and forth while moving along the track.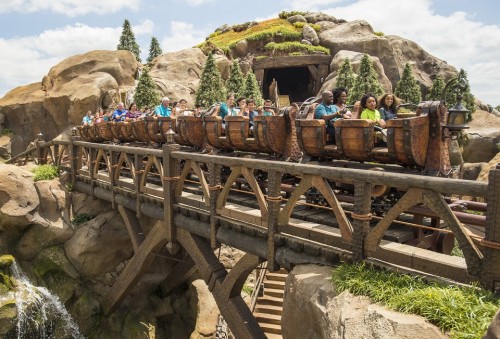 It is interesting to note that rotoscoping was used to form shadows of the marching dwarfs at one point in the ride. This technique was used by tracing the movements of the dwarfs in the film to help animate the shadows for the roller coaster.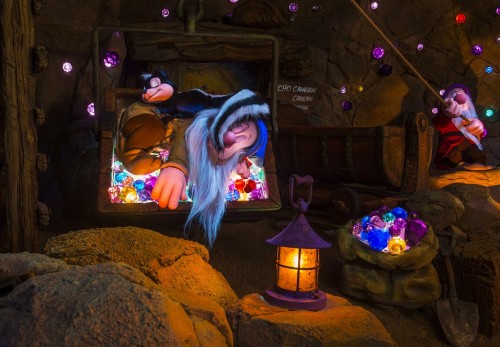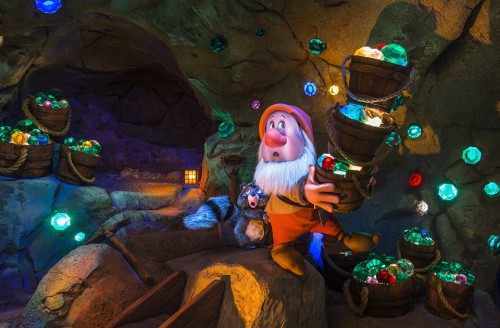 Some of the figures in the Seven Dwarfs Mine Train were taken from the ride – Snow White's Scary Adventures. This ride is no longer in existence, and is now the site for another new attraction – Princess Fairytale Hall.